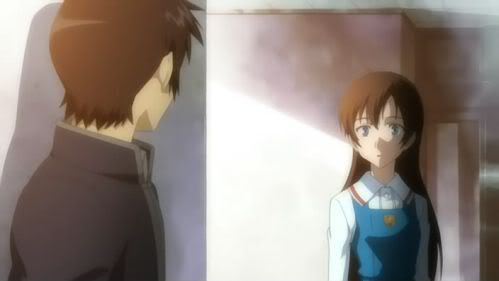 Sexual tension so thick you could cut it with a knife.
Still treating Shinichiro as a replacement for her dead rooster, Noe plants envelopes filled with red seeds all over the place, be it his desk or locker. Noe's cute like that, as most normal girls would do the same, but with love letters instead. Wanting to confront Noe about it, Shinichiro instead finds himself stumbling upon Noe cuddling with a male student of another school right after school. He heads over to Ai's eatery to tell Nobuse about it only to be teased on the matter.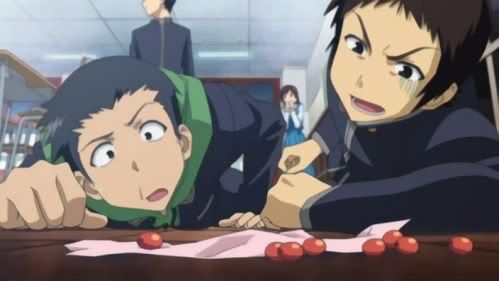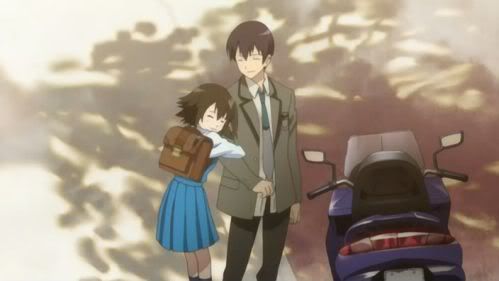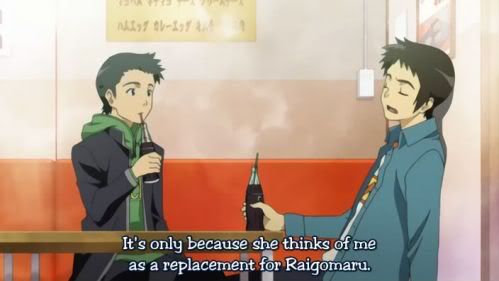 Right after that, Shinichiro and Ai head over to the community center to deliver food, when she brings out the matter regarding how Hiromi wanted to make friends with Noe. Claiming to understand why Hiromi did it, she accidentally blurts about how a person would get close to someone simply to approach to their real target. Ah ha, pretty much like how she befriends Nobuse then...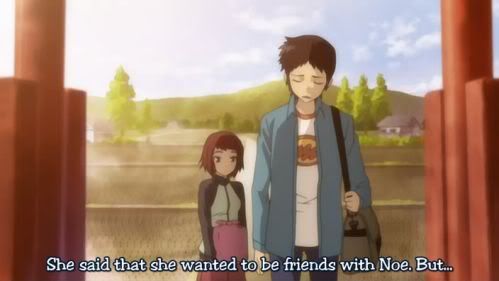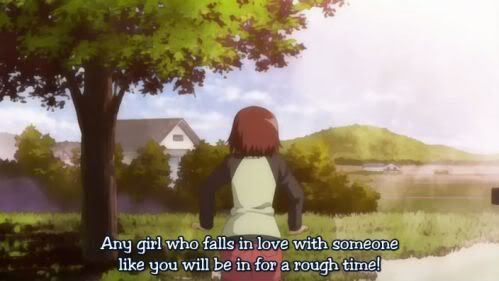 At home, Shinichiro sees Hiromi being told by his mother to deliver sake to his uncle. He gallantly does so instead, much to his mother's displeasure. Just as Hiromi and Shinichiro leave the house, the latter's dad return to find out what just happened. He tells his wife that both of them are their children, but she doesn't treat Hiromi as one. Ouch. On the way to their destination, Shichiro talks to Hiromi about how they both used to walk the path they were on back when they were kids, to which Hiromi replies, stating she does not recall it. After a flashback of how it was like when they were young, Hiromi utters to herself, about how she's sealed away all her memories.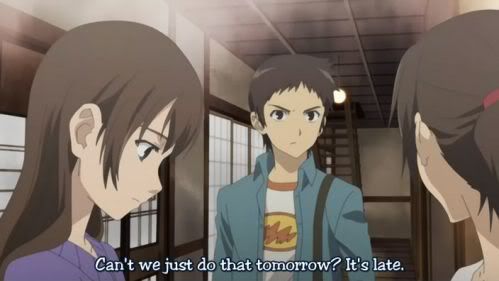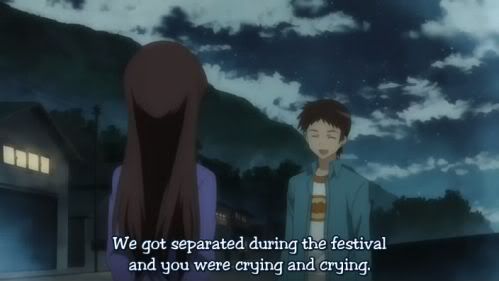 The next day, which so happens to be the interschool basketball match, Shinichiro yet again finds red seeds being left in a trail for him. He finds Noe on top the tree once again, telling her she should stop whatever she's doing, as she already has a boyfriend. Without answering him, she jumps down, and seems to have hurt her leg. The reluctant Shinichiro then piggybacks Noe all the way to the gym, in full view of everyone, including Hiromi. There, Noe runs off(??!) to greet the same guy she met the other day, who turns out to be her brother. After the match, Shinichiro comes across Hiromi and Tomoyo discussing about the incident which took place earlier, where the latter queries her about her feelings towards Shinichiro. She tells Tomoyo that she actually really likes another person(yeah, right) and then leaves, only to awkwardly stumble into Shinichiro, where hey both stare blankly into one another.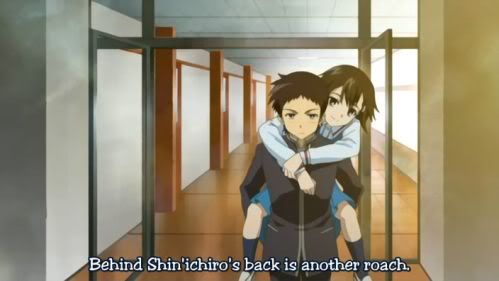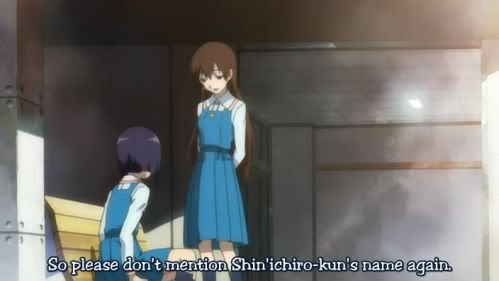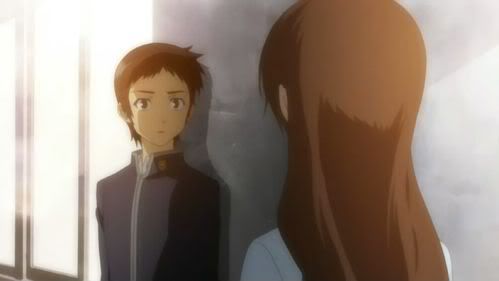 Another great episode, with the introduction of the third female lead, although she seems to be the most passive of the lot and does not have the same kind of advantage that both Noe and Hiromi have at this point. Still, hopefully they will develop her story later on. Speaking of which, Noe is now my current favorite, with her eccentric and childlike behavior being a huge draw for me, despite the fact I would normally go for the childhood friends turned tsun-tsun types(think Nanaka of Myself; Yourself) like Hiromi. That would probably change later on though, when they finally reveal what changed her so much, so I really can't wait to see what happens. Shin out.