Fun fact for the day.
Hinata has to be a good girl, oh yes she does. Arriving early at Hirose's doorsteps, she invites him to go to school together, where they stumble upon Hayami, who is waiting for Hirose for the very same purpose. After a moment of awkwardness, Hinata pulls Hirose away and proceeds to their destination. Unsatisfied, Hayami butts in and drags our hero to school, claiming he had promised her. The burdens of a male harem lead.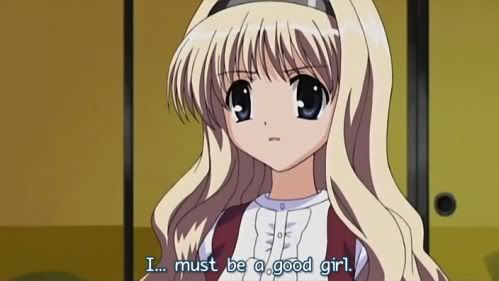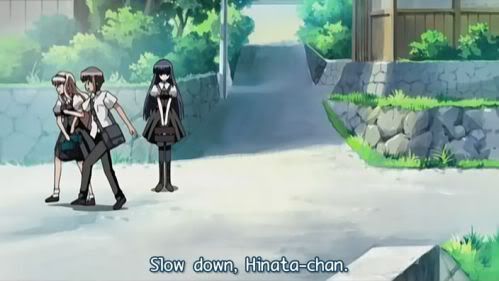 For the day's classes, everyone is assigned to an outdoor sketch, which gives Hinata a chance to grow closer with Hirose by presenting him a bento with full of tamagoyaki, a favorite of his. Hirose praises her on it and finds out that Hinata had spent the whole night without sleep, making it for him. Hinata then tells him it was all fine, because he was her Destined One. We then find a melancholic Hayami gazing into the sky on top of a hill, when she is approached by Hirose, who mentions that it is lonely not being able to speak with friends. She tells him she is unable to do so in school, and just as he brings up the incident earlier in the day, she tells him it was intentional. Hayami continues by saying that she used to have one close friend back then, who gave her candy and uttered a line on how it brought happiness as sucking on it made a flower blossom in one's mouth. Uh huh.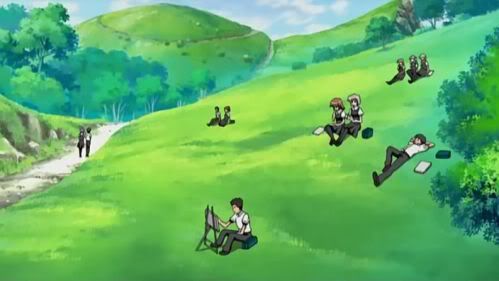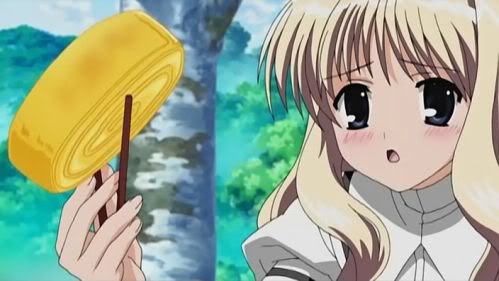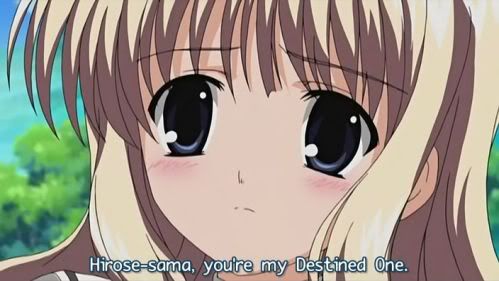 Hinata pops out of nowhere to get Hirose and as if right on cue, Hayami takes leave. Hirose is taken aback, when Hinata hands him a piece of candy, repeating the very same line Hayami had mentioned earlier, which leads him to suspect that she is that one close friend. Taking it one step further, Hinata invites Hirose to her house to meet her grandfather, to which he accepts, as he wanted to confirm something. Just as they were having tea, Hirose ceases the opportunity to question her on it, and sure enough, his suspicions were right on the mark. Hinata then slowly reveals to him on how she and Hayami used to be such close friends but were torn apart due to differences in their social standings. Ever since the incident where Hayami's house was burned down, Hinata has been avoiding the latter ever since. Although she does not admit it, Hirose points out that it was something she had regretted and brings her to Hayami's place to reconcile. Just as they were about to arrive, Hinata stops Hirose in his tracks and steals a kiss, in the presence of an astonished Hayami.
A Hinata-centric episode, we finally find out what the audience had already suspected earlier, about how the two female heroines were once good friends. Still, it really doesn't explain the hatred the whole community has against Hayami, so I'm guessing the death of Hinata's sister had something to do with it. With tensions on the rise and the bold move by Hinata, there should be more conflict abound, where Hayami would either ignore Hirose entirely or reciprocate Hinata's actions by being more aggressive in getting his attention. Most likely the former from the looks of it. Shin out.