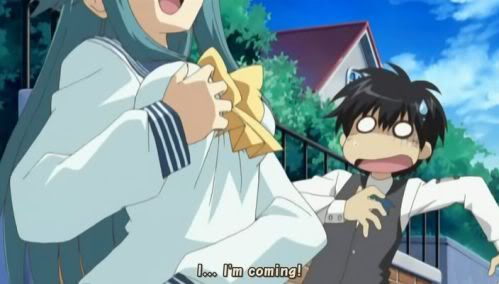 Yes, this is exactly what it looks like :Q~~

After waking up from a weird dream, Ren's trial period officially begins. It goes well, as he handles tasks expected of a butler such as cleaning and attending to his masters with relative ease. He also learns that each of the sister is assigned a personal attendant; Beni for Shinra and Natose for Yume. That leaves Miyu without one for the time being, so it all boils down to whether or not he or Mihato can pass the test.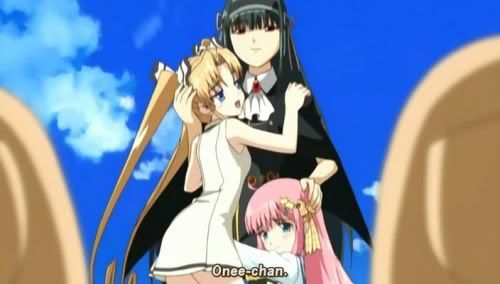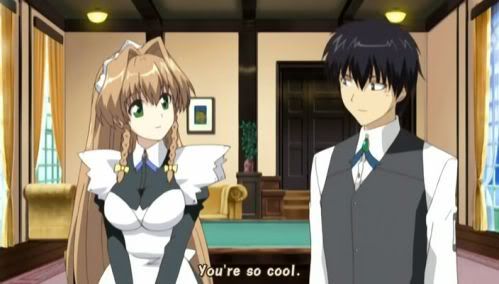 At the dinner table, the Uesegi siblings discover that in the Kuonji house, the masters and servants dine together as a means of improving the relationship among one another. It is then when Shinra tells Ren that even the servants are treated as family there. This leads to Ren thinking of his past with his abusive fathe, and how Mihato used to always protect him. The initiation into butlerhood(is that even a word) goes well for Ren as he finds out first hand how much Shinra enjoy teasing objects of her desire, especially when it comes to people, such as Miyu. Speaking of which, the lucky bastard chances upon a topless Miyu, who tells him he doesn't have to be embarrassed, as they were master and servant after all.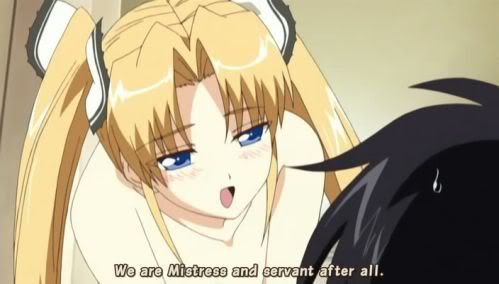 The next day, Ren and Natose accompany Yume to school, and on the way, he bumps into one of Yume's classmate, the sexually active and masochistic Anasthasia. When they arrive at their destination, another two of Yume's friends are introduced; Keiko the relatively normal track team member and Ageha, who like Yume, is a lady of prestigious household who has her own personal butler as well. On the final evening of the trial period, Ren is asked by Yume's classmate to recover a ferret belonging to a school board member's wife, should he come across it. True enough, he does find it, but in the midst of capturing the animal, he accidentally breaks one of the Kuonji prized antiques.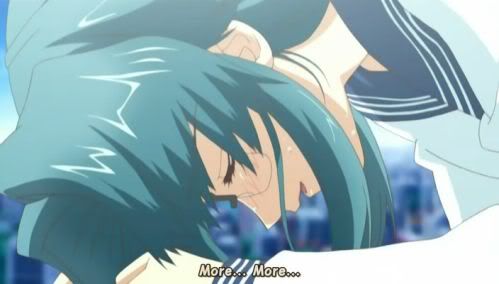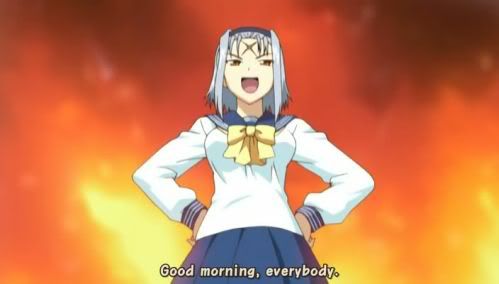 Ren apologizes profusely before Shinra, who tells him his careless actions will be taken into consideration when passing judgment as to whether or not he gets the job. He is angry at himself for acting in such a way, as it reminded him of his father. During his moment of brooding, Miyu slaps and tells him that Mihato had defended him, stating how he never gives up in the face of adversity. Ren is fired up, and resumes the duty of a butler until the following day. As expected, Mihato passes with flying colors, and as for Ren, due to his interesting character and efforts so far, he is forgiven and accepted as well. Right after Shinra's decision, he is appointed as her personal attendant, much to Benisu's anger and envy.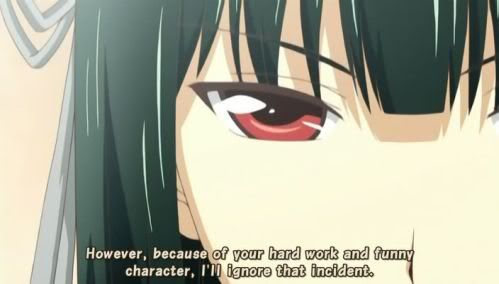 I'm still watching this show for some reason, so I guess there's something about it that brought me back, apart from the girls of course. Never had much of an expectation from this to begin with, but after the second episode, it does look like I'll be adding They Are My Noble Masters to my watch list. Funny to see the eventual turmoil between Ren and Benisu since the latter is relieved of her duties, which would probably lead to some funny moments as they both fight among each other vying for Shinra's attention. Shin out.