Yes, I actually do enjoy taking screencaps of scenes that can easily be taken out of context.
After having sat through the somewhat banal introductory episode, I'm glad that I decided to try out the second episode of this amazing show which is shaping into something which I can call one of my current favorites at this point. With great and consistent animation throughout, True Tears takes on the tried and tested school life drama genre and presents it from a fresh perspective.
I really do suggest that everyone try out the first episode to see if it's to their liking, although I'm pretty sure it will, as I'm going to jump straight into this episode's summary. This week concentrates a little more on Hiromi, the girl who lives under the same roof as our protagonist Shinichiro. While it's every guy's dream come true of having a non blood related girl living under the same roof, the animosity between the two doesn't make it look enviable.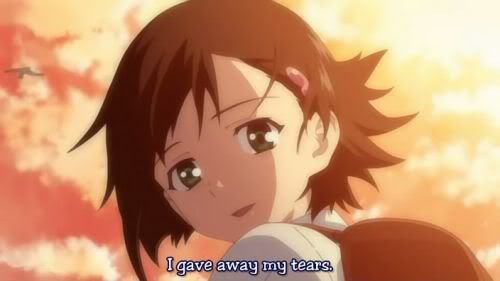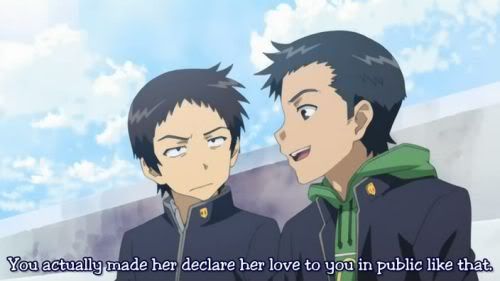 A little upset(jealous?) over seeing Noe, the other lead heroine of the show, paying so much attention to Shinichiro, Hiromi asks the latter to introduce Noe to her, under the pretense of wanting to become friends. She finally gets the opportunity to approach Noe during one of her basketball training sessions. However, instead of actually becoming acquaintances, Noe sees right through Hiromi and points out that it was all a charade, with Hiromi not actually liking her to begin with.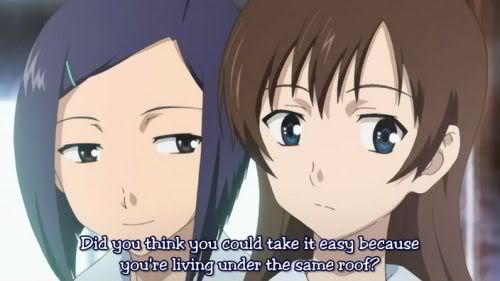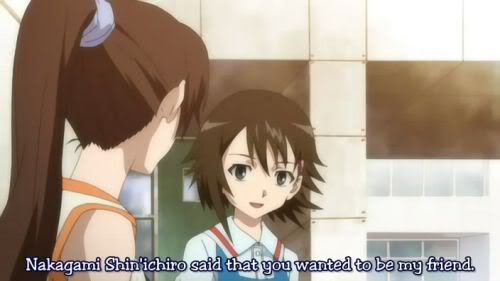 See what I mean? Already in the second episode and we have this amount of tension between the characters, so it will really be interesting to see how it develops. Then again, Myself; Yourself started off great and ended up only so-so, but whatever. Also, regarding Hiromi and Shinichiro's relationship, it's worth noting that it might not have been what it's being portrayed in the show, two strangers living in the same house, as a flashback of a younger Hiromi crying out for Shinichiro probably implying that she once had feelings for him as well. Always the bad childhood experience huh? Worth mentioning is the great OP theme by eufonius, who also does Clannad's. With everything top notch so far, True Tears prove to be a contender for the best show of the season, edging out the generic rehashes and disappointments out there(with the exception of Spice and Wolf of course) Shin out.