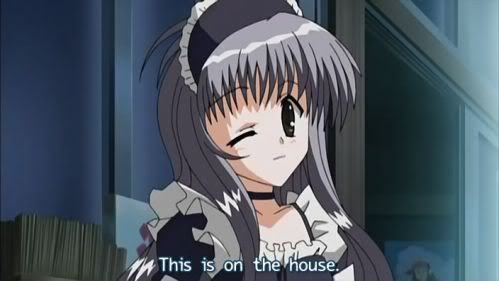 Spoilers: This maid has a penis.

Oh man, Poor-chan is poor. Apart from being hated and physically abused in school, Hayami's living conditions are equally as rotten. Living in some makeshift camp consisting of two rusted street trams, she secludes herself from the rest of the population. It is a fact known to Hirose after curiosity got the better of him, when he was told not to cross the suspension bridge by the river.
Just like any good male eroge lead, Hirose confirms his suspicion by visiting Hayami at that place, only to find himself caught in an clichéd ecchi moment, the one where the guy stumbles upon the naked girl bathing at the river. Hayami for the time being accepts Hirose's presence and they have cup ramen together. While conversing, Hayami recalls of the past which involves a young Hinata offering her candy. It's then that Hayami tells Hirose off by saying that she doesn't need any friends. Hinata finds out about Hirose's visit to Hayami's place and pleads with him not to do so again.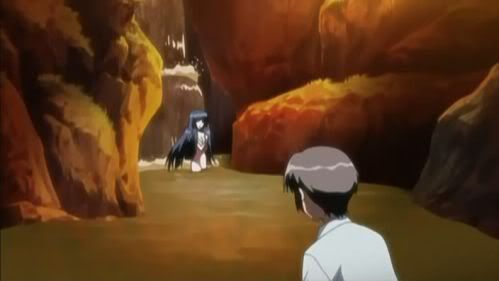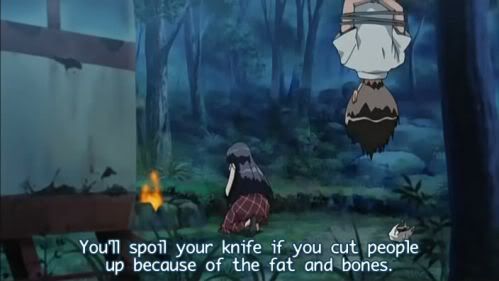 The next day in school, the class was assigned to create pinwheels. Hirose invites Hayami to create one with him, only to be turned down. Hinata then interferes, requesting that he do it with her instead, but he insists that the three of them do so together. This draws the anger and objection of Yui, who continuously taunts Hayami with the word roach. Not wanting to create any more a of scene in class, Hayami steps outside of class, inviting Yui and her henchmen to "have fun with her"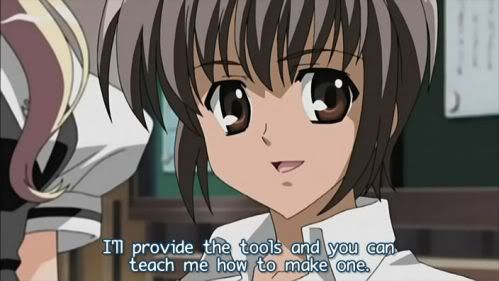 Hirose's plea to the class teacher to stop them falls on deaf ears, and he finds Hayami being bullied as usual. He steps in to help the latter out, ignoring Yui's threats and taunts. Hinata makes it in time to stop Hirose from being beat up as well, vowing to protect him from Hayami in her family name. Both Hirose and Hayami head back home together, where the two share a brief bonding moment, when they both help one another make a pinwheel.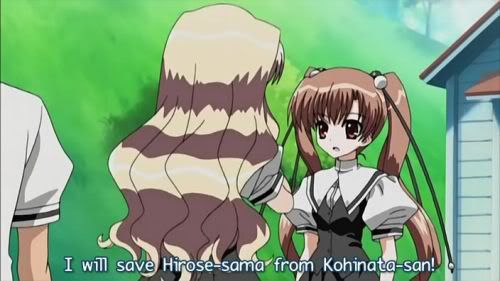 One can't help feeling sorry for Hayami, and unlike most other tsunderes, she is acting in such away as a precaution, having being denied kindness for such a long time. So with that, Hirose has triggered Hayami's event flag, which is fine since it's pretty obvious that she would be the lead heroine. Still, I wish to see more of Hamaji the trap, and that short scene of him in the maid outfit was not sufficient to quench my lust. Haha. Shin out.