At first glance, I thought I was watching an eroge version of Hayate The Combat Butler, taking into consideration the similarities in plot as well as the occasional parody moments. While not exactly a bad thing, the show doesn't leave much of an impression due to the execution.
Just like that other butler themed anime, the show's protagonist is a down and out guy who has to find ends meet. He goes by the name of Uesugi Ren, and along with his sister, they run away from home after falling out with their father to look for a job in the city.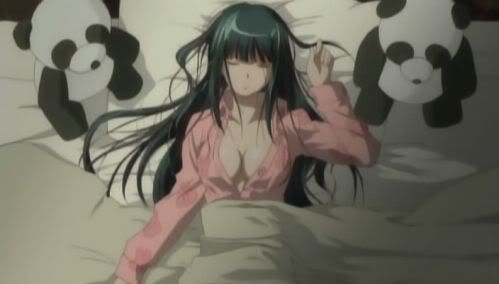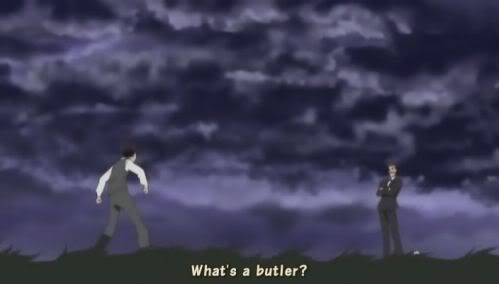 To cut to the chase, after lending a helping hand to one of the family members of a prestigious household, the siblings are taken to their mansion where they are offered jobs as a butler and maidservant respectively. And so, with hints suggesting this will be a generic harem show with only the females as its selling point, I try to delve deeper into the archetypes offered, and They Are My Noble Masters has a decent lineup, with no one being particularly spectacular:
Kuonji Shinra
The lead heroine of the show. She is the personification of the proud oujosama archetype, although lacking that tsundere characteristic. She does however, has a fetish for cute objects, so expect lots of scenes where she fondles both males and females alike. Suspected sexual sadist.
Uesugi Hato
My favorite heroine so far. Hato is the kind and loving onee-sama, who is a brother-con to boot. Her gentle demenure only serves to hide her true nature, a calculative and devious mastermind of sorts, who also has the ability of hide an assortment of objects inside her dress.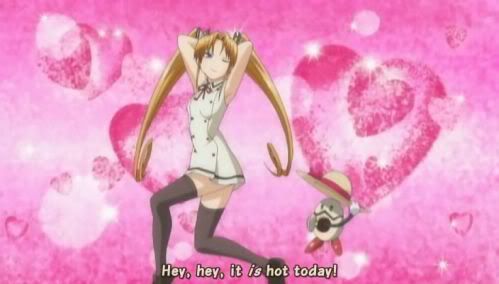 Kuonji Miyu
The token loli character, although not your usual moe moe type. She's the kind where she thinks she's already physically matured, but is in actuality otherwise. As such, she can be stubborn at times and has minor tsundere-ness.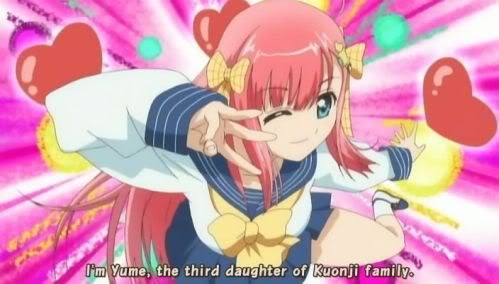 Kuonji Yume
Third sister of the Kuonji family, Yume is your everyday dojikko type. Unfortunately it is the only thing going for her, and therefore she is pretty much a minor character.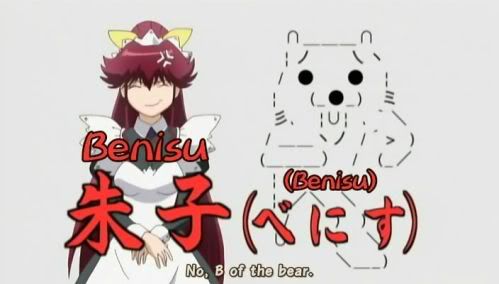 Benisu
Head maid of the Kounji household who has a unfortunate name. Yes, it does sound like Penis, a fact which is ridiculed by by the Uesugi siblings. Much like the mistress of the house, she is proud in character but has tsundere traits.
Natose
The reverse trap if you will, meaning she's a girl who dresses like a guy and is often mistaken as the latter. Seems ordinary enough, but she possesses insane physical abilities and is treated like a canine by Benisu.
Chiharu
What's a harem show without the trap? Chiharu fits the bill, although you can consider him more of a shota, as he does not exude the kind of femineness a trap normally would.
That pretty much sums of the first episode of Kimi ga Aruji de Shitsuji Ore de(long name is long) and it's only so-so at best. Still, it's interesting enough for me to try out the next episode, although I'm not hoping for much. Shin out.