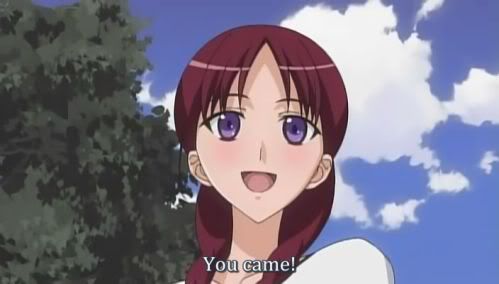 I definitely did, when I saw you sweetheart...
It's finally here! The most anticipated show this winter for me, and I'm happy to say it doesn't disappoint one bit. For the uninitiated, Spice and Wolf is based on the novel/manga of the same title which is illustrated by Koume Keito, a popular H artist. Character designs for the anime however, is handled by Kazuya Kuroda, of whom I've been a fan of ever since the days of Vandread.
The first episode basically introduces our protagonist Craft Lawrence who is a traveling merchant returning from a "business trip" to a village where he is welcomed with opened arms. There he meets, Chloe(from what I understand is an anime only character) who also serves as his trade apprentice cum admirer who has to partake in a traditional ritual whereby she is to be the one who will capture the wolf god, Horo.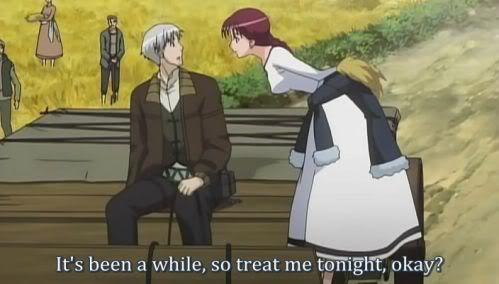 Lawrence heads to the river bank to camp when he hears some rustling inside his wagon. To his surprise, he sees a naked girl with wolf like features. She introduces herself as the Horo, although the he refuses to believe her until she shows some proof. She helps herself to some wheat from his wagon and without warning, Lawrence screams and falls onto the ground as he witnesses her transformation.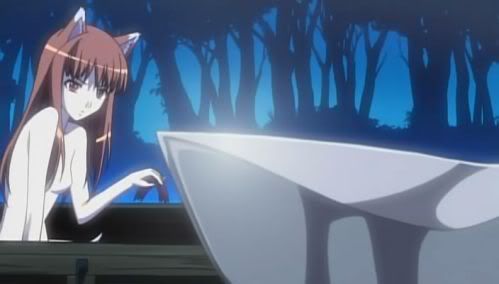 Regaining composure, he heads back to the village, unsure of what had just took place. Just as he was resting, Chloe talks to him about a business plan, but he turns her down, stating that she is too young. Going back to bed, Lawrence sees Horo once again who laments to him about how the villagers no longer need her and how she has to avoid them as they are afraid of her true form. She thanks him for being her savior, as since she's normally in the harvested wheat(the sheaf that Chloe picked)and can't leave without being noticed, she was able to move to his own stack, which was bigger.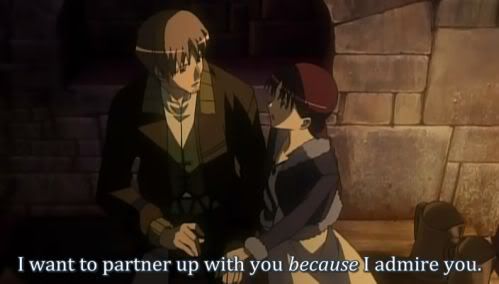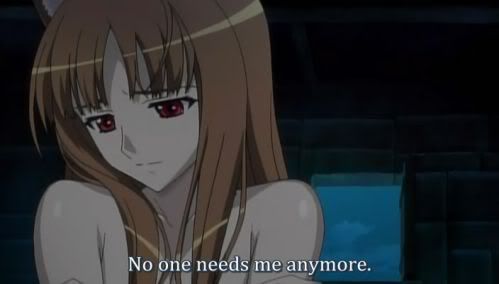 They both leave the village together, and as part of her request to return to her homeland in the north, Lawrence only asks that she earn her own keep from then on. They reintroduce themselves to one another, and head to the next town.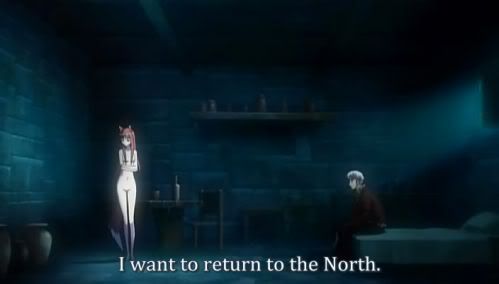 Nice episode introducing the characters, although I wonder about the inclusion of Chloe, who has the possibility of disrupting the flow of the story. Still, I enjoyed it a lot, with the above average production qualities and seemingly genuine middle ages setting. Special mention goes the OP and ED themes which have a poignant feel to it. Definitely a keeper. Shin out.