When /a/ gets excited about a visual novel, it usually means it's something worth taking notice of. After all, it was due to /a/'s fanaticism over Tsukihime being translated that got me into TYPE-MOON. With that said, the talk of the town now is all focused around Clannad. Yes, the Clannad visual novel.
Released 3 years ago, popularity for the game has began surging once again, due to, without doubt, the airing of the anime and the recently released English translation patch. Mind you, it's not a 100% complete, but a number of the main paths have already been translated, so one can sit through them for the time being. Since it apparently takes a whooping 90 hours to complete, you'd expect a whole lot of stuff that needs to be done, and thankfully, the good people at Baka-Tsuki are doing their best working on the project.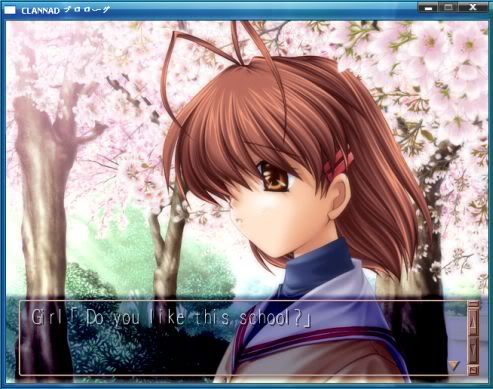 Initially, I tried abstaining from playing it since it would probably ruin my anime watching experience, but the temptation proved to great, so I caved in at last orz Right now I'm in the midst of playing my favorite heroine, Kyou's path. Not long into the game, but I can say it's been great thus far, and the voice patch, which was extracted from the PS2 version of the game, makes the game even better(the first PC release didn't have any voices but there will be a re-release sometime in the new year for the PC with the full trimmings)
Anyway I do recommend that everyone try it out, whether to experience their favorite girl's path as soon as possible(like myself), or perhaps to complement their Clannad anime watching experience. If you're interested, you can get both game and voice patch from Hongfire. More information at Animesuki.