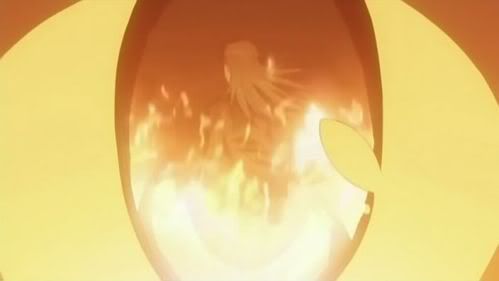 Estuans interius
Ira vehementi
Estuans interius
Ira vehementi
During her time as her child, Nanaka was tutored by a violin teacher by the name of Sakuraba. He was a great teacher and a family friend. Unfortunately, he abruptly died of cancer, leaving everyone in despair. One night soon after, Nanaka heard sounds of beating, and to her horror, she sees her father confronting his wife on their child. It turns out that Nanaka was Sakuraba's child. Not wanting to fully acknowledge the things that were going on, Nanaka decided to go back to bed, telling herself it was all a bad dream. Hearing a loud thud, Nanaka heads downstairs again, only to find her mother unconscious, and beside her, the man she had called father all these years, with a lighter in hand, with gasoline all over the room.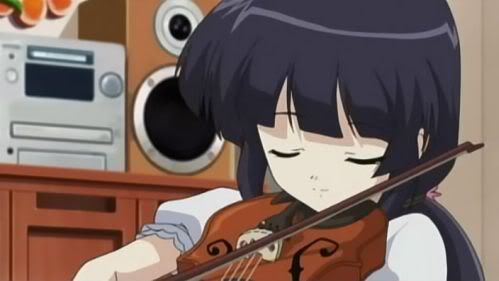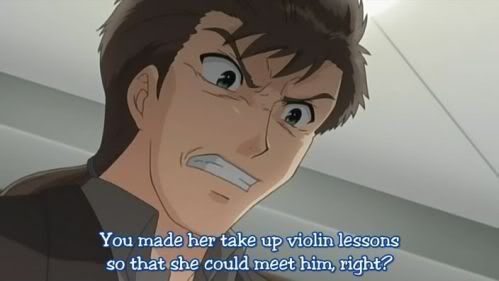 He tosses the ignited lighter onto the floor, and the whole place was set ablaze. Realizing what was taking place, Nanaka rushed back upstairs to grab her valuables, the bracelet Sana had gave her, as well as her violin. She then leapt from the second floor window to safety, but along the process suffered a case of long term amnesia.
We then see a distraught Nanaka in the present, who had just confined in Sana on her tragic past, being comforted by him. Ever since then, she has locked herself in her room, not wanting to see anybody. It was then Nanaka's uncle tells Sana about his concerns for the very first time, and his regret for not taking his brother's ominous words on not forgiving Sakuraba and Nanaka's mother seriously, which led to the incident.
Everyday without fail, Sana would then visit Nanaka everyday, even though she would not see him, until one day, he finds that she had left her room to go to the bath. Concerned that she was taking too long, Sana went to check on her by knocking on the door. Nanaka does not answer, and after hearing the constant stream of water, Sana experiences a flashback of something similar that had took place ages ago. Braving himself, he rushes into the bath, only to find an unconscious Nanaka, who had just slit her wrist. She is then immediately sent to the hospital.
Sana visits Nanaka at the hospital, and advises her that suicide is never the answer. The fumed Nanaka then lashes out at Sana, saying that he could have never understood something like that as he had never experienced it before. It was then that Sana tells her of his own traumatic past, in which he tried to take his own life in the same fashion. Sana was bullied when he was in middle school and this persisted to the point where he could not take it any longer. Despite surviving the incident and being transfered elsewhere, he had become paranoid and socially withdrawn ever since. Just as how Nanaka wanted to experience the past experiences by mailing Sana by putting the letters in their secret mailbox, he did the same by returning to this town. He tells her that even after failing suicide he still had the notion of ending his life, but it all changed, as had it took place, he would have never been able to stop Nanaka from doing the same.
Fast forward 10 years into the future, we see an older Hinako grooming herself, about to leave for somewhere, with the now grown up Youta, the little boy whom she saved from bullies years ago. At the park, we see Aoi chancing upon Asami and thanking the latter for her efforts in preventing the park from being turned into a town hall. Nanaka, who is getting ready for a performance, is joined by Sana backstage, who proposes to her by giving her a ring. Even twins Shuu and Syuri return after a decade, to witness Nanaka's maiden performance. Everyone gathers at the audience seatings, including Sana who sits beside Yuzuki-sensei who rewards him with a caramel, for being a man. And with that, Nanaka begins her performance, saying that it was piece she had made a long time ago, filled with her feelings of joy and sadness, entitled Myself; Yourself.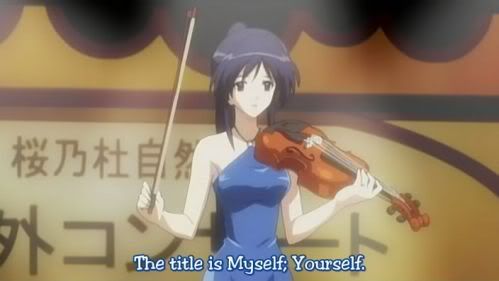 Not the kind of epic ending I had hoped for, but I guess that was the best they could do within 13 episodes. Nanaka's past was a bit of a surprise, but everyone saw Sana's miles away, with that wrist-slitting. Still it was nice to see that everyone had matured in some way, be it mentally or physically. Aoi still has that same loli voice, while Asami has redeemed herself somewhat by fighting for the same cause Syuri did back then. Not that OP sequence concert event, but I guess this violin piece by Nanaka would have to do, ending one of my favorite shows of autumn with a proper note, so to speak. Shin out.