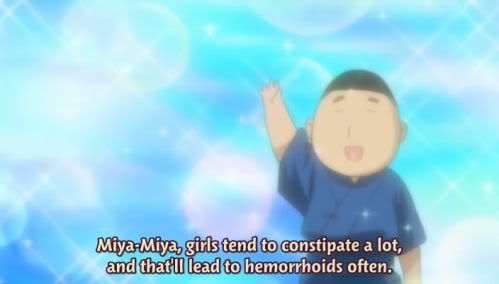 This is a public service announcement brought to you by Dan-kun.
If I have one complain about Bamboo Blade is that the pacing of the show is horrible, and just like the previous episode, not much happens here as well. Just as before, the team is training for the next round of the preliminaries while the search for the last member continues.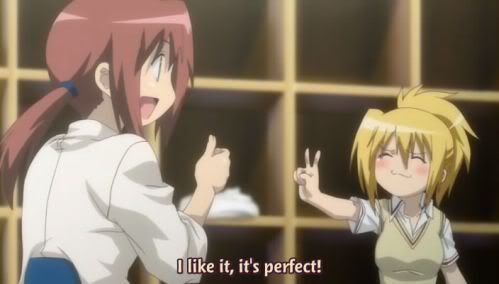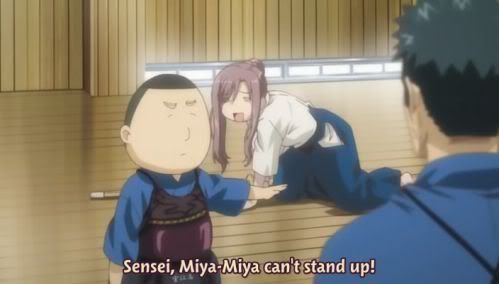 Miya-miya is still troubled by Reimi stalking her, but for the first time, she lets everyone know the cause for it. It turns out there used to be a guy who confessed to Miyako when the two were still in middle high, but "turned down gently". The guy was beaten into a pulp, although Miyako suggests otherwise, and since then Reimi has kept a grudge and has been stalking the former ever since. After the training session, Reimi spots Yuuji leaving the dojo along with Miya-miya, whom she assumes was her boyfriend. She then asks some thugs to take care of him, but they fail miserably.
The next day during training, team captain Kirino is still struggling trying to remember the recruit's name, when Yuuji casually suggests that she should just call her friends for it. Dur. After that was taken care of, Kojirou informs everyone that they will be sparring against members from Miyako's old school. The news left her in shock, but she calms down after assuming that Reimi wouldn't possibly be in the kendo team.
Everyone finally discovers Azuma's name and so the search begins. Kirino and Saya finds out that she usually spends her time at the library during lunch, while Kojirou approaches the latter's homeroom teacher for some background information, such as she has joined a club and whatnot. She regrettably tells him that Azuma's parents are against their daughter joining clubs during high school, which leaves him in a bind. At the library, Kirino and Saya makes a ruckus at the library, much to the annoyance of the librarian. When they finally thought they had found her, it turned out to be someone else, but it was the last straw for the librarian, and they were promptly thrown out.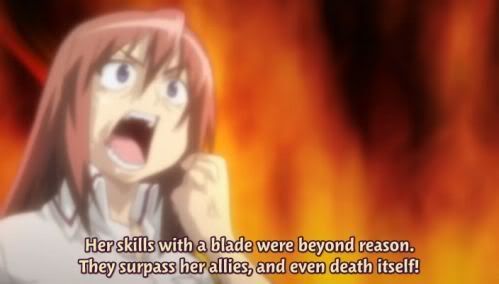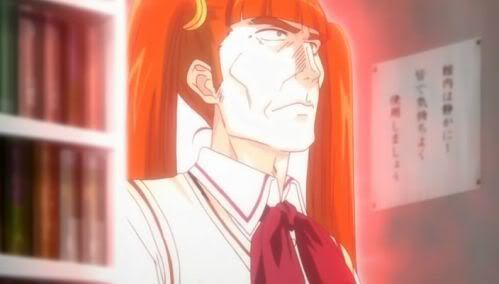 Lawlawl, I can't believe they took 2 episodes just to find out Azuma's name, which was solved through a simple SMS. In any case, judging from the preview, we'll finally see the glasses chick whom is somehow convinced to join the club, not to mention yet another training match against the team from Reimi's school. Shin out.