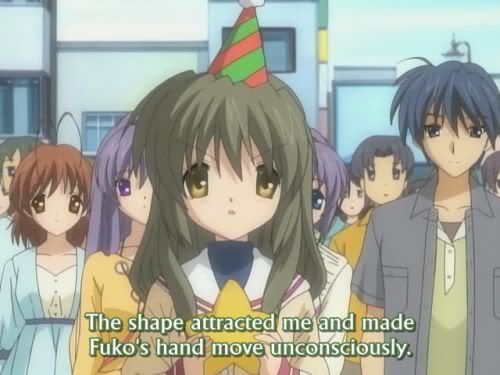 Arghargbleargh! Like a recurring nightmare, Fuuko pops out of nowhere to scare the living daylights out of me. That might be exaggerating things a little, but it doesn't change the fact she's my least favorite heroine, despite me being lolicon, which also explains why I didn't bother to write up on her arc....much. But I digress.
Despite the horrific incident that was Kotomi's recital last week, it has actually helped her gain some self confidence and friends along the way, as she is attending classes as usual. However, her skills as a comedian still needed work as Kyou lectures Kotomi on her lack of talent of being a tsukkomi. The latter tries to impress everyone with a gag she learned on TV, but it falls flat.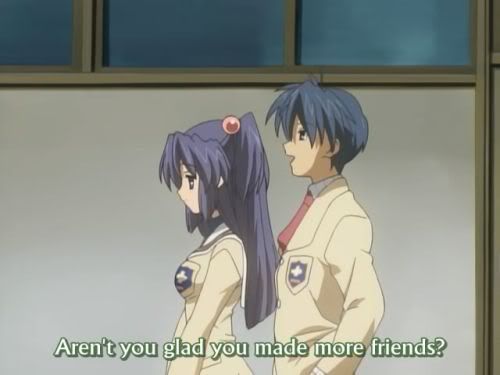 Seeing as how everyones' plans for the weekend is mundane, Kyou proposes on a group outing, with Tomoya being the only male of course. The gang have fun and just as they were attempting at a UFO catcher, BANG! From the depths of the abyss, Fuuko manifests and offers aid to catch a prize, which had the others stumped. Unsurprisingly, no one remember who Fuuko was, although everyone was experiencing some form of deja vu.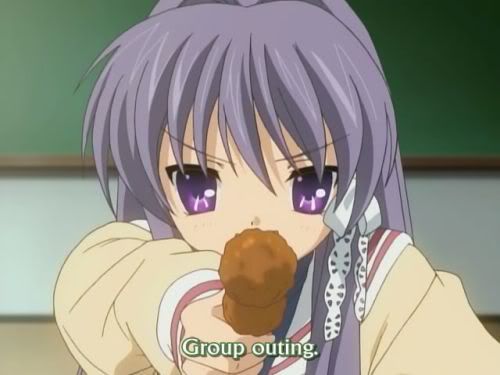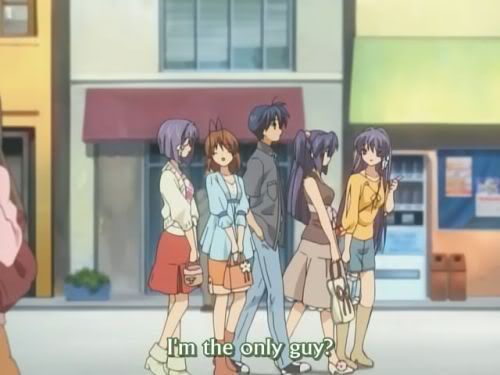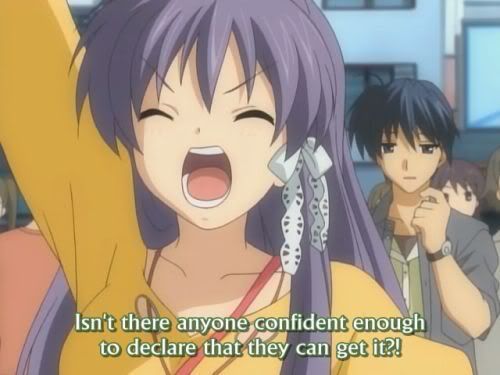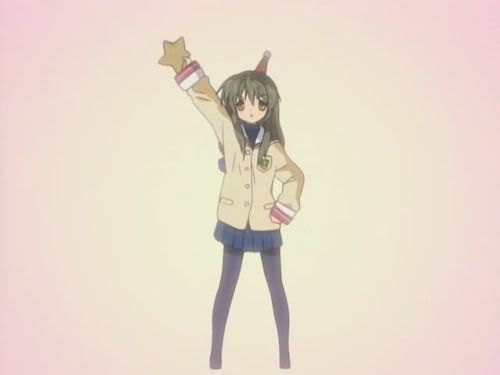 The next morning, Kotomi gives a Tomoya a naughty surprise, as instructed by Kyou. The lighthearted mood was shortlived, as Nagisa informs everyone that Ryou might have been involved in a traffic accident. Everyone rushes to the scene, and thankfully, Ryou was unharmed. However, when Kotomi arrives, she suddenly collapses and crawls into a foetal position, weeping away in anguish. The gang are taken aback by this and they send Kotomi to the school nurse.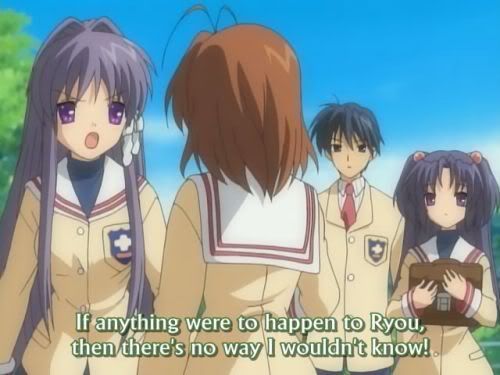 Just as they were about to visit Kotomi at the infirmary, everyone finds out that she had gone home much earlier and after inquiring from the homeroom teacher, they decide to head over to her house. Nobody answers the door, so everyone decides to try again tomorrow. Tomoya feels an uneasy sensation and decides to head back to check things out once again. Back at Kotomi's, Tomoya stumbles upon the very same trench-coat wearing man, who finally introduces himself. The man tells Tomoya that he is in fact a family friend. Upon questioning him on Kotomi's parents, the man hesitates to reveal anything to Tomoya, saying it's a matter of privacy.
The man does however, tells about Kotomi's parents being great scientists and how they came across an amazing scientific discovery on "hidden worlds" (lawl wut?) After the encounter, Tomoya heads into the Ichinose residence, being lead by a series of visual flashbacks. He finally finds Kotomi in a room full of newspaper clippings looking depressed. There and then, he is hit with the realization that her parents are dead and that he has met her back when he was young.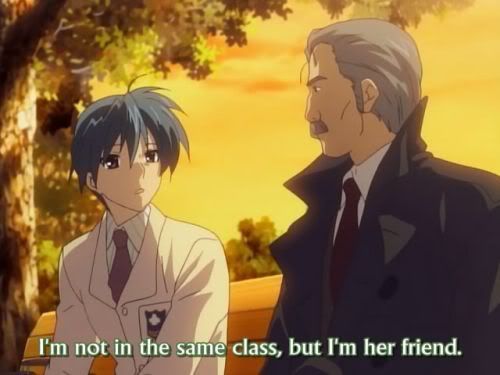 Good episode with Fuuko's cameo turning this into a really weird experience. Speaking of weird, I felt I was watching Myself; Yourself, as Kotomi had a similar traumatic past experience involving the death of her parents, just like Nanaka. In any case, this episode also seems to suggest that Kotomi's arc will also being a supernatural one, judging from the flashbacks Tomoya is experiencing, as well as the mumbo jumbo the scientist dude spouts. Unfortunately we won't get to find out anytime soon as the anime producers will be taking a break till the 10th of January 2008. Sob. Shin out.
PS Never bothered using the post teaser feature until now, since load times for me wasn't much of a concern..that is until I tried surfing the blog on a 56k modem, which is when everything(images) loaded as slow as hell. Hopefully through this feature, load times can be cut down to a minimum ><